Choreographer Spotlight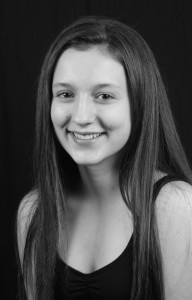 MaryKate Frassinelli
How many years have you been in the company?
I have been in the company for seven years.
How many years have you been choreographing?
I have been choreographing for 3 years.
What inspired you this year in your creative process?
This year, I was inspired by my experience living in this world thus far. I have experienced amazing things filled with happiness in love. However, I have also seen the terrible sadness and violence people have had to experience. I wanted my piece to show that we are all human on the same earth, and we can change this world for the better if we come together and spread happiness and love.
How does your piece relate to the concert "Moving Forward"?
My piece relates to the theme "moving forward" because in this day and age, we can learn from the generations before us. We have all seen the sadness and violence but now, we can be the generation that changes the world for the better. We can create a safer and happier earth for the generations to follow.